Company & Product
Expanded Compatibility Empowers New Workflows
Radformation's next-level integration improves cross-platform operations for ClearCheck and QuickCode
---
The time has come.

Radformation solutions are bringing clear and measurable benefits to departments around the world. As we continue to grow our intelligent automation solutions, ensuring wider compatibility remains a priority.

Just as we've designed other tools to be vendor-agnostic to meet the demands of radiation oncology departments, we're pleased to announce new access for our automation solutions. Bringing the very best in plan evaluation and reporting, ClearCheck is now available for plans for all major treatment planning systems via DICOM export. Additionally, QuickCode is now compatible with Mosaiq® Oncology Information System (OIS), enhancing billing efficiency for a broader user base.
ClearCheck Glows Up
Used in over 1,200 clinics worldwide, ClearCheck is an automated plan verification and documentation software that ensures the highest quality treatment plans by automating dose constraints, plan checks, plan comparisons, and creating fast, thorough documentation.


Until now, ClearCheck was designed for use with a single treatment planning system. The latest version of ClearCheck is now compatible with virtually any treatment planning system, including specialty machines, MR linacs, and adaptive systems.
Click here to learn more about ClearCheck in a recent webinar: ClearCheck to the Fullest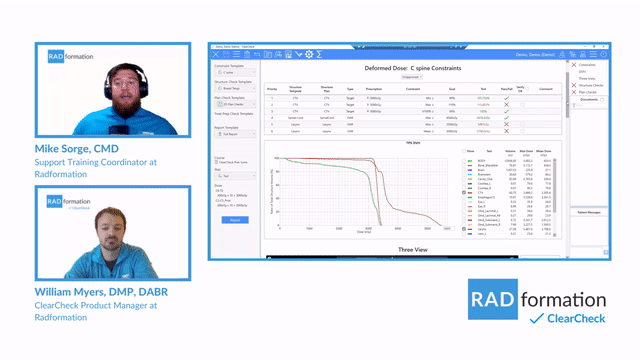 The latest version of ClearCheck retains the essence of the original software*, performing full-feature plan evaluations via DICOM import/export. Version 2.4 also comes equipped with a new Plan Sum Builder to support better patient plan evaluation in mixed environments.
Plan Sum Builder
New to ClearCheck, the Plan Sum Builder allows for the summation of multiple unique plans using either a shared frame of reference or rigid registration. Additionally, the Plan Sum Builder accepts deformable registrations created from within Radformaton's deep-learning segmentation solution, AutoContour. Reviewing the resulting plan sum is ideal for retreatments, abutting fields, and sequential plans from different treatment planning systems.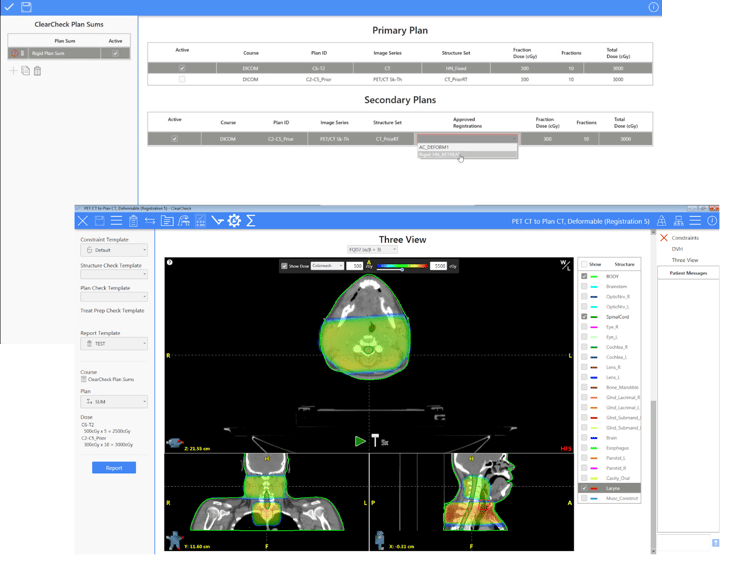 ClearCheck has the features you need to make plan review and documentation more effective and efficient. Dose constraints in seconds. Automated structure and plan checks. A 3D sandbox to simulate the patient and gantry to prevent collisions. Faster, comprehensive reporting. All without compromising quality. And now with the ability for DICOM import/export, ClearCheck accepts plans from nearly any treatment planning system.

But don't take our word for it. See it in action for yourself: schedule a demo of ClearCheck to see how it can take your plan evaluations to the next level. If you're already a ClearCheck user, unlocking new features is as simple as installing your free upgrade to the latest version (V2.4).
*Some features in the ESAPI version of ClearCheck, such as prescription verification, Chart Rounds module, and some structure/plan checks are not available with the new DICOM version.


QuickCode + Mosaiq = 💚
Those of us that have had any involvement in billing for our various roles in radiation oncology understand the complexity that comes with it. In the midst of our busy schedules and ever-changing billing standards, it's easy to miss charges and just as easy to get them wrong.

We designed QuickCode with these challenges in mind, to untether from current manual methods that are error-prone and time-consuming. With an automated platform like QuickCode to automatically compare each patient's charges to expected values, departments can verify that all charges submitted to payers are appropriate, accurate, and adhere to best practices.
---
"QuickCode is an amazing platform for billing. Built-in templates advise us what we should be billing, what we should not be billing, and ensure each week's charges are accurate."

-Simul Parikh, MD
---

Initially tailored for ARIA® OIS, QuickCode addresses a growing demand for streamlined billing solutions. As automation made its way into the billing sphere, we were often asked:

Is QuickCode only compatible with Aria and not yet available for Mosaiq®?

Until just recently, QuickCode was not available for Mosaiq. But...

We are thrilled to announce that QuickCode has expanded its horizons, now integrating with both ARIA and Mosaiq OIS. With this expanded compatibility, we continue our commitment to standardize and simplify the billing process. Each and every fraction is meticulously monitored, utilizing planning, treatment, and documentation data to ensure that associated charges are appropriate.

We recognize the unique challenges that come with billing, and have incorporated detailed checks that can ensure your planning charges play well with the nuances of billing. Our system automatically detects documentation and approval status, identifies coding conflicts, validates diagnosis codes, and much more.
We recently co-developed a podcast episode with The Accelerators on the topic of billing in radiation oncology, including discussion of the challenges, opportunities, and solutions like QuickCode that exist in the space. Click below to listen in on our conversation and learn more about what's possible with automation!
Conclusion
With the expansion of ClearCheck and QuickCode into new treatment planning systems and OISs, we're making intelligent automation easier to access than ever. At Radformation, we're committed to bridging the gap, bringing solutions to provide better care to as many departments as possible.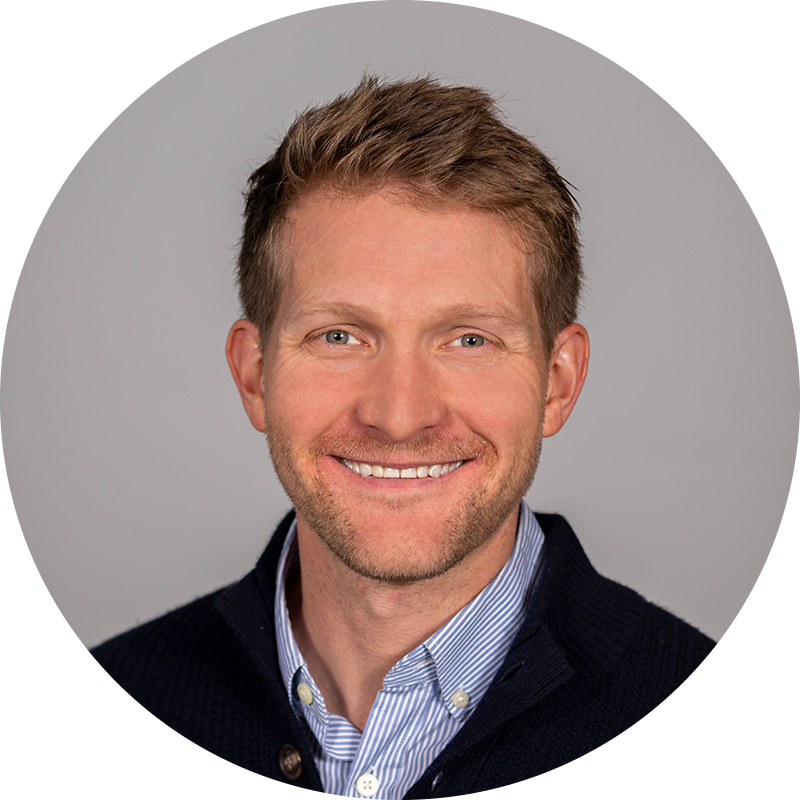 Tyler is a board-certified medical physicist with extensive clinical experience in radiation therapy. He is active in the medphys community including several AAPM committees, the AAPM Board of Directors, and as an ABR orals examiner. Tyler dabbles in real estate investing, loves preparing breakfast for his three kiddos, and enjoys playing adult coed soccer.