Company & Product
Radformation Rewind: Looking Back at 2021
As 2021 draws to a close, we reflect on our year and look forward to 2022 with optimism.
---
It's a wrap, folks.
Another year is in the books, and what a year it was! Everyone in the radiation oncology community has had to adjust to what has unwittingly become the status quo: remote communications, virtual meetings, and ever-changing health protocols. Despite these challenges beyond our control, we are grateful for the opportunity this year has granted us to continue doing what we love.
Because it is a labor of love. We're passionate about innovating, passionate about improving cancer care, and passionate about the people that provide the care. And so, as we turn the page on 2021, we want to offer sincere gratitude to our community for the hard work and dedication that you commit toward our common goals. And of course, thank you for the support you've shown towards our efforts at Radformation.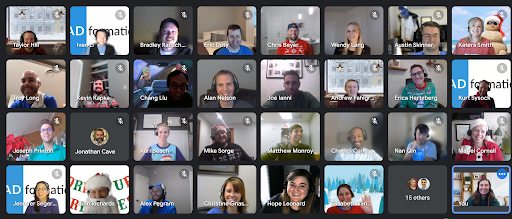 Product Line Expands
Earlier this year, we were thrilled to expand the role of automation in the preplanning phase of the workflow by introducing our new deep-learning auto-segmentation tool,
AutoContour
. We're all aware that automated contouring platforms have been around for some time, so how is this any different? Deep-learning-based contours distinguish themselves from atlas-based solutions of the past with their dramatically improved clinical viability and time savings. That is to say, structures produced using AutoContour are fast and of high quality.
Other products in the lineup saw significant improvements over the course of the year. Just last month, we released Version 2.0 for the following:
AutoContour: Yes, we launched this year. But that didn't stop us from adding more contours (now over 80 structures, including new target/nodal volumes) and improving functionality in the latest version.
ClearCalc: With support for Raystation, Cyberknife, Gamma Knife, MR-linacs, superficial, and orthovoltage, our second check software is a fit for nearly all clinical environments. And log files? We can analyze those, too.
ClearCheck: With the ability to analyze BED and EQD2, along with additional dose constraints and plan checks, what's not to love?
Departments Reaping Benefits
When we hear from clinics how they've saved time or improved their workflows using our software, we're eager to share it with others.
For example, when we launched QuickCode in 2020, we exceeded our own expectations when we discovered that departments can save hundreds of thousands of dollars by implementing automated charge review, or that they would dramatically reduce the amount of time required for billing review. This year, clinics across the country reported that QuickCode played a major role in improving their billing audits.
Similarly, a ClearCalc case study with Northeastern Oklahoma Cancer Institute showed improved secondary calculation agreement over the department's previous solution (not to mention a much more efficient workflow). In getting a busy department, fewer clicks equate to higher efficiency.
On the webinar front, we had users detail their experiences firsthand. Physicist Ryan Smith provided his department's experience with QuickCode, and dynamic duo Corey Clift (physicist) and Mariel Cornell (dosimetrist) offered perspectives on the ClearCheck/ClearCalc tandem. We even held our very first webinar in a foreign language featuring Jose Teruel, who demonstrated EZFluence for a Spanish-speaking audience.
Interested in working with Radformation software for a project, poster, or webinar in 2022?
Reach out: info@radformation.com
After a meeting drought last year, we were anxious to see everyone for our first in-person meeting presence of 2021 at ESTRO in Madrid. We also attended the hybrid ASTRO and SROA meetings in Chicago, where we connected with customers in the booth, handed out delicious fresh-baked cookies, and enjoyed the nightlife at our user's meeting.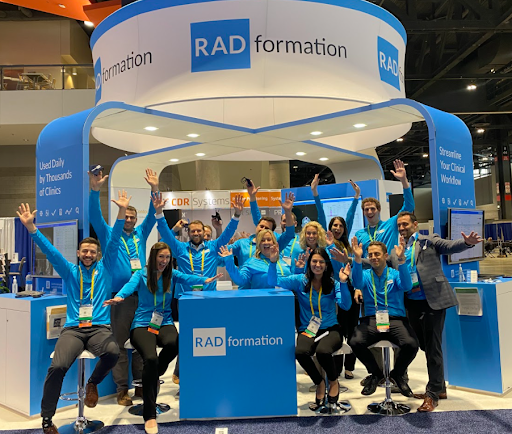 While we were more excited than ever to get back to in-person gatherings, you didn't see us sitting on the sidelines for virtual events. In fact, for the first time, we participated in meetings at the chapter level, and it was fun to see everyone in this more intimate setting. We also attended the AAPM Spring Clinical Meeting, where our team gave two talks on clinical efficiency and automation.
We participated virtually in the AAPM annual meeting this year and shared the Radformation vision during two sponsored talks (from Kurt Sysock and Elisabeth Van Wie) on the vendor showcase track.
Then there was the Virtual Tradeshow, the one to rule them all. Coinciding with the AAPM annual meeting, we hosted a virtual event packed with product presentations, giveaways, demonstrations, and hijinks. We hosted a Coffee and Credits event webinar with UCSD physicist Jeremy Hoisak, who enumerated the benefits of automation and shared insights on what UCSD believes is the future of radiation oncology. We also did a little education with a workshop on ESAPI scripting with Carlos Anderson and an EZFluence follow-along with Kari Beach, CMD. We also had our fun: we gave away loads of prizes during Radformation Bingo and managed to embarrass ourselves (yet again) with our Radformation Pyramid game show.
Designing tools that help clinicians is our jam. But we also love to provide relevant, actionable information on the blog. Over the course of the year, we posted dozens of new blogs featuring product updates, interviews with physicists on the
Focal Spot
, and radiation oncology news and perspectives.
But by a long shot, the most popular blog of the year was our BED/EDQ2 Calculator. What I love about this post: beyond providing the utility of a BED calculator, there are reference values for 𝛼/𝛽 ratios for various organs and a basic BED/EQD2 primer. If you don't have it bookmarked yet, do yourself a favor and click the link above.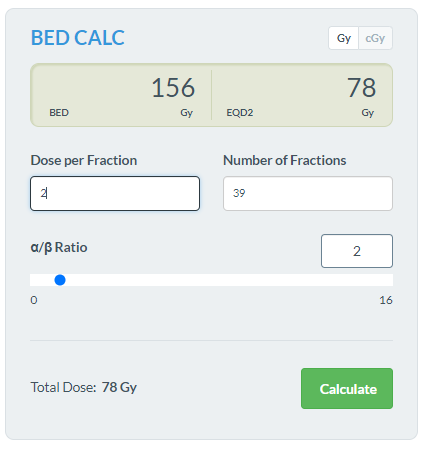 As the product line has grown, so has Radformation. This year we celebrated our fifth trip around the sun, and we now have over 60 employees dedicated to pushing the limits in radiation oncology (and it seems like we're always
hiring
!) But better yet, our software is being used by a record number of departments. Our efficiency solutions are installed in over 1,100 clinics worldwide. And this year, the use of our software has more than doubled that of last year.
We've had a fantastic year, and we can't wait to see what 2022 brings. Thank you for being a part of our journey.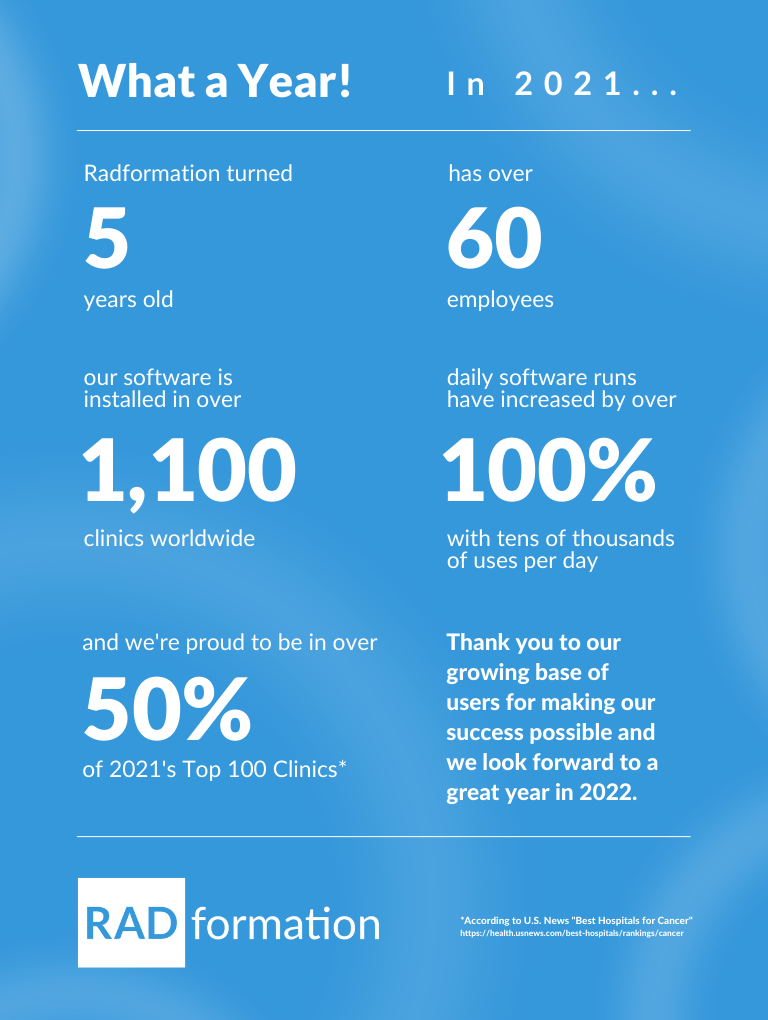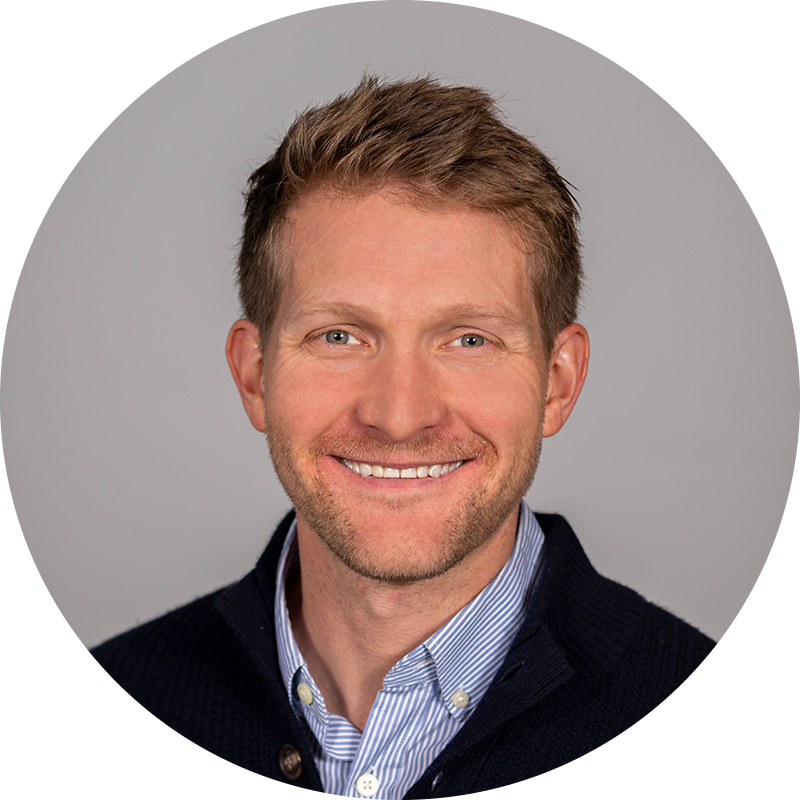 Tyler is a board-certified medical physicist with extensive clinical experience in radiation therapy. He is active in the medphys community including several AAPM committees, the AAPM Board of Directors, and as an ABR orals examiner. Tyler dabbles in real estate investing, loves preparing breakfast for his three kiddos, and enjoys playing adult coed soccer.